INTRODUCTION
The Kola Peninsula Atlantic Salmon fall run is as iconic as the arrival of the first springers in Scotland, the appearance of the first fresh Baltic Salmon in May or the beginning of the summer-run giants in Norway. It is one of many reasons why fly fishing the Kola region has been high up the to-do list for destination anglers worldwide. Depending on variety of factors, the so-called "Osenka" salmon, run from mid-August till the rivers are virtually covered with Ice. What's so special about these fall-run fish? Osenka enter the system in the fall, stay in the river for the whole winter and summer before the participate in the spawning, to leave the river the following spring. In other words, these fish are prepared to stay in the river up to 18months. They are packed with enough muscle and fat tissue to sustain themselves for the whole period... and it shows: Osenkas are almost morbidly obese and resemble triploid stockies in all the good ways. These fish a deep-bodies silver bullets. Relatively small heads in most cases and ready to rumble. Every lucky angler who has managed to fool one of these illusive fish will sing their praises. The takes a violent, the fight is spectacular. If you need another reason to embrace this challenge: The golden and red hues of the Indian-Tundra-Summer paired with blistering cold nights and a high probability for Northern Lights. If that doesn't do it, try an exquisite lodging setup with dining that matches any fancy restaurant in a metropolitan. Both the Lumbovka and the Kachkovka river are blessed with the presence of these iconic fish and an international group of keen anglers joined us to embark on the first official fall season journey this September.
WEATHER & WATER CONDITIONS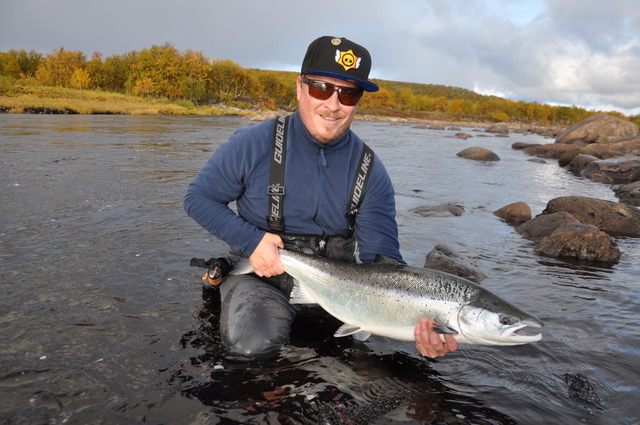 With air temperatures ranging from 4 to 12 degrees and correlating water temperatures at an average of 7 degrees, a typical fall week. Upon arrival of our anglers, the fauna presented itself in a lush green, with wild berries and mushrooms in abundance, just to change with in following 7 days into a uniform sea of bright yellow with some red highlights. The fall is here in full force. The dry-streak of the summer continues, leaving the water level at an almost consistent -15cm low over the early summer normal. The only rainy day and night gave us a good push of +15cm on top, which opened up the highway for the first sealiced Osenkas to enter the the middle section of our beats. The presence of fresh fish resulted in equally good numbers of stale fish. The Kachkovka watershed had its fair share of the same rainy depression as well, swelling the river up a good 10cm on top. All in all, most pools fish a good swing at this water level. Good conditions through and through.

FISHING REPORT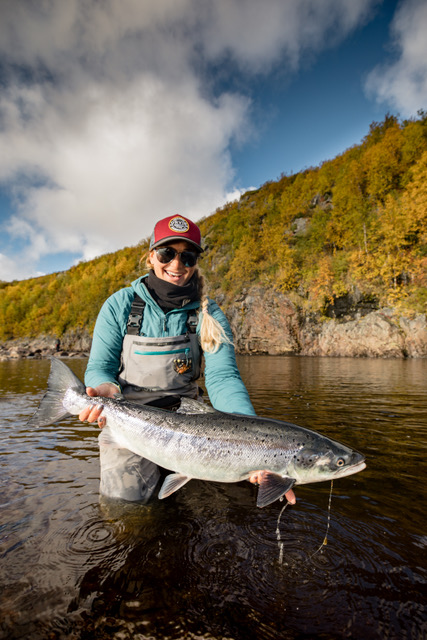 This week was all about the highly anticipated arrival of the fall run fish in both the Kachkovka and Lumbovka river. Given the promising conditions in both watersheds, all clocks were set for perfect storm. Our neighbouring systems, the Ponoi River shed, had a promising start with good numbers of fresh fish showing and transiting through their beats - not surprisingly, Kachkovka revealed its silver treasures soon after. Traditionally, the Kachkovka has an earlier run and better numbers of Osenka, whereas Lumbovka does produces the bigger fish. Which has proven to be accurate yet again. The relatively mild fall is a promising foreboding and might set us up for a prolonged fall season before the weather turns too hostile for anglers to enjoy the sport. Both rivers lived up to expectations, producing a good number of stale fish as well as Osenka on top. As the week progressed, more silver fished filled up the classic holding pools, like Colosseum etc.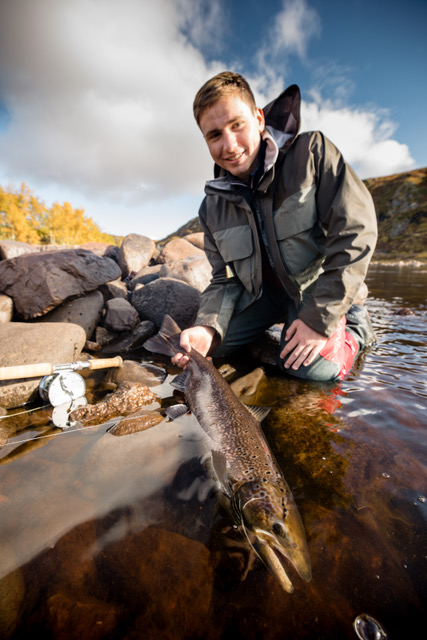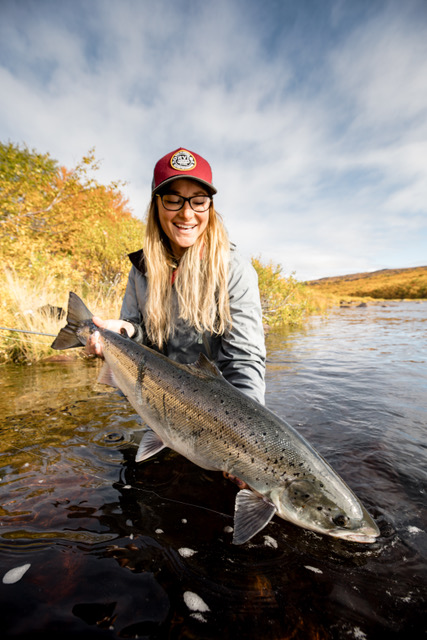 We have had all reasons to celebrate this week. We manage to put a couple of anglers onto their first salmon ever, including 18year old Ilya Dzhanlatyan, who has displayed excellent casting that ultimately payed off as well as remarkable fish handling skills and sportsmanship. A bright future. Internationally acclaimed angler and casting instructor Marina Gibson joined us this week on her first Kola Peninsula roundtrip after fishing the Ponoi river. Already in the zone, she managed to kick off the Osenka Season on the Kachkovka with a strong Osenka from the upper section. After some stale fish in Snowbank and Homepool, a Phatakorva tied on a double hook fell victim to an angry Osenka from "Three Brothers". She continued her streak with ten more fish including a 14lb Osenka from Lumbovka's Colosseum and a strong 19lb colored hen fish from the tail of the same pool, putting on quite a show. First timer Stanislav not only managed to catch his first Salmon and his first Osenka, he also got to know why the Colosseum has earned it's name over the last two years. A spanking fresh fish in the 11-12kg range took him 15 minutes for a ride before it ultimately disappeared in space and time. A true heartbreaker, but an appetizer for what Salmon fishing is all about. Shai and Alexander joined us for the 2nd half of the week for three days of Salmon galore, starting off with a decent size Osenka from Kachkovka's Generals Pool. Dima and his son Yaruslav continued where they had stopped in June, with a good number of both Salmon and Seatrout. Pietari from Finland lived up to his Scandinavian roots with an overall strong performance on both rivers, resulting in 9 fish including a strong male Osenka from Eric's run (Lumbovka) and a 90cm tartan croc from Kachkovka's Falaise Homepool.
LETTING THE NUMBER SPEAK
Silver fish: 37%
Best flies: Allister Tube, Alley's Shrimp, Flamethrower Orange, Aurora Cascade, Willie Gun Tube, Yokanga Gold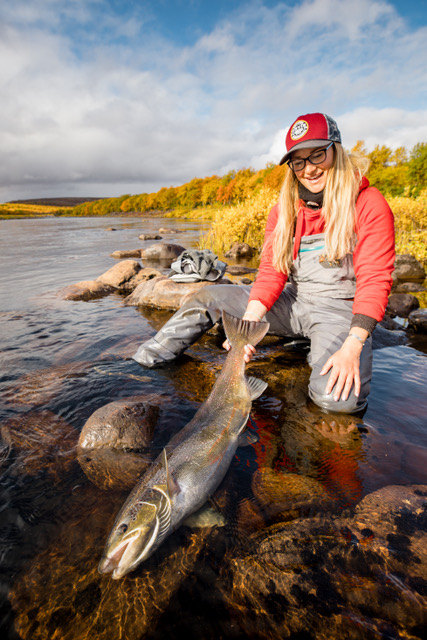 APPROACH FISHING TACTICS
Fast for silver and slow for colored fish was the general consent this week. Floating Lines with long leaders or Intermediate Polytips were the weapons of choice for most anglers. Our fresh fish were savvy for fast flies and even surface action, despite the relatively cold water. The stale fish added to the mix in every major holding pool. The dropping temperatures will eventually slow the fresh fish down, but till then, we are still stripping flies.